(Lithium, too, which will be covered in this report as well!)
This could be the greatest investment opportunity you'll find in your lifetime!
Now is the time to make your move on Canadian mining! Strategically essential material production is about to rocket here and the following explains why!
Over the last few months, prices in copper have soared with no clear signs of having reached a top. Two factors are driving prices: the rapidly growing global move into electric vehicles and the declining quality of copper ore now being mined in the United States and South America.
Both of these factors create enormous openings for rapid growth in Canadian copper mining.
Today, some key resource regions in Canada are known to be rich in undeveloped copper resources. One of those areas is the Flin Flon district in central Manitoba. This region is bursting with unique geological features that are well known for rich deposits in copper as well as gold, silver, zinc, and other important metals.
Later in this report, you'll learn about;
QMC Quantum Minerals OTC: QMCQF – TSX.V: QMC – FSE: 3LQ  enormous holdings in the Flin Flon region that could soon become a major producer of copper in North America.
That's not all. Supply pressures are also building for lithium to produce the batteries needed in a rapidly growing fleet of electric power vehicles.
QMC Quantum Minerals also holds a massive position in hard rock Canadian lithium resources. Indications are that production is close to launching and that could become a strategic win for U.S. automakers and a major blow to China.
Over the last few years, lithium investing went cold as China grabbed control of four-fifths of world lithium supplies. But now things are heating up anew!
Demand for Canadian hard rock lithium is set to boom as the U.S. auto industry invests billions of dollars to launch a new era of electric vehicle (EV) production! China never saw this coming and Wall Street is just now taking notice.
American manufacturing will need more lithium than ever…and some of the world's best resources are located just north of the border!
Canadian hard rock lithium resources could lead western lithium production as U.S. auto manufacturers go all-in on EVs! The internal combustion engine and its fuel, oil, are about to become relics of the 20th century. The new fuel is lithium and Canada appears poised to dominate new lithium production much like Texas did with oil a century ago.
Back then, investors made fortunes in oil. Today, attention is turning to lithium for all the same reasons.
That's triggered enormous interest in QMC Quantum Minerals  OTC: QMCQF – TSX.V: QMC – FSE: 3LQ  and its strategically situated Irgon lithium prospect in southern Manitoba.
Quantum's Irgon lithium prospect holds what appears to be one of the most significant, historically proven hard rock lithium resources in the Western Hemisphere. And it's conveniently situated just across the border from the heart of America's automotive industry.
This report explains how Quantum could quickly become a leading resource for America's soaring new production capacity in lithium-ion battery manufacturing…and how that could send its share prices soaring!
An Urgent Report for the Wealth Seeking Investor:
Many Americans are already aware that the U.S. auto industry is set to undergo what is likely to be the most transformative time in its history.
The numbers are staggering and it's a transformation taking place on a global scale. You are witnessing one of the greatest investment opportunities you're likely to see in your lifetime. You don't want to miss this.
Forget the politics of green…the private sector is launching a revolution in electric vehicles.
QMC Quantum Minerals Corp.
OTC: QMCQF
TSX.V: QMC
FSE: 3LQ

QMC Quantum Minerals has significant holdings in two proven resource districts. The company is near production on its Irgon lithium project in SE Manitoba where up to $2 billion in lithium ore production is anticipated.

Further north, Quantum has advanced exploration prospects on newly interpreted data that identifies multiple, high-probability gold/copper VMS assets. This region has a long history of prolific production and holds potential for millions of ounces in gold equivalent resource production.

At its current share price, QMC Quantum Minerals appears significantly undervalued relative to its longer-term resource potential.

To learn more, go to:
The investment potential should be clear. The entire U.S. auto industry is gearing up for the switch to electric.
LG Energy Solutions has announced a $4.5 billion commitment to launch U.S. battery production by 2025![1]
General Motors has partnered with LG for an Ohio battery plant and is planning for a second in Tennessee.[2]
"GM CEO Mary Barra has said the company wants to exceed its prior target of annual sales of 1 million EVs in the U.S. and China by 2025." –Automotive News 4/4/21
Ford plans an $11 billion investment to produce 40 electric vehicle models by next year.[3]
Fiat Chrysler has targeted $4.5 billion to electrify Jeeps and Ram trucks.
This is not a fad or a flash in the pan. This is real, it is enormous, and it is just getting started! Now is the time to get involved as this could be the biggest wealth-creating opportunity of a lifetime.
Within this decade, millions of American cars are destined to be battery-powered. And if you're to focus on any one thing that presents wealth-building potential it should be lithium.
Lithium mining in North America is barely a blip on the radar, but with things on track as they appear now, that's about to change in a very big way.
Start with the obvious. World lithium production is overwhelmingly concentrated in three top producing regions; Australia, South America, and China…and 80% of that production is controlled by Chinese interests. These three regions account for 46-times more lithium tonnage than the next closest producer found anywhere in the world! Bottom line: China dominates global lithium production at present![4]
Are they going to give it up for U.S. automakers? Don't count on it! China is already threatening to starve the U.S. of strategically vital rare earths. Lithium would simply be more of the same.
Here's the conundrum that makes this enormous investment opportunity possible.
The demand for lithium to build batteries for U.S. automakers is about to rocket. Unless GM, Ford, and Chrysler are willing to be beholden to Chinese supply whims, they have no choice but to secure reliable and plentiful resources for new lithium supplies in North America.
They're making the investments in the billions of dollars. So, what do they know that we do not? They're likely looking to make Canada the epicenter of western lithium production!
Canada hosts some of the largest hard rock lithium resources found anywhere in the world. Those resources are also the least exploited, but that could change very, very quickly!
Quantum Minerals, with its Irgon lithium prospect in southeast Manitoba, appears well-positioned to become a near-immediate, major lithium resource for the burgeoning U.S. electric vehicle future.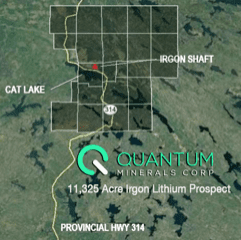 Quantum saw this market taking shape a few years back when it acquired 100% ownership in the Irgon lithium prospect.
The Irgon prospect has a long history of lithium exploration and discovery. Lithium exploration and production in the region dates back to the 1950s.
A massive body of historical data accumulated since then supports the resource estimates that have been made for the property, which now total over $2 billion in lithium concentrate plus more resource valuation in rare metals tantalum (Ta) and cesium (Cs).
A known resource!
Years ago the Irgon prospect was fully developed to the northern expansion zone for the prolific Tanco mine, which launched production of lithium (Li) concentrate along with rare metals tantalum and cesium in 1969.
The Tanco mine became the largest producer of lithium, tantalum, and cesium in North America. To process the ore to concentrate, a milling plant was built on site and remains operational today.
The milling plant is key to Quantum's operations…and could well be key to automakers as well.
The plant, now owned and operated by Sinomine Resource Group, sits just 12 miles south of the Irgon prospect. It processes raw lithium ore to a concentrate useful to battery manufacturing. With that milling operation nearby, Quantum's lithium production potential could be quickly and economically trucked to be processed, then delivered to market.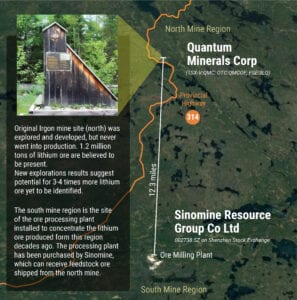 It's easy to conclude that this is exactly what U.S. automakers are counting on to access regionally available lithium supplies.
Why seek Chinese-controlled lithium supplies halfway around the world when much of what is needed sits just north of the US/Canadian border?
While Quantum may not be the only Canadian lithium prospect that ultimately supplies U.S. markets, it could quite likely be among the very first. That's an enormous advantage for investors seeking to profit from what the market has in store in North American lithium production.
This is as ready to go as it gets. Just about everything needed to begin lithium ore production is in place at Irgon. Surface improvements and infrastructure are already completed. Provincial Highway 314 was originally built specifically to service the trucking needs of the project area. Power lines extend to the site and structures are in place ready to be used. And it's not just new ground. Existing tunneling already exposes much of the resource potential.
There will be little guesswork needed to bring Irgon's lithium resources to production!
The implications for Quantum shareholders are significant. As mentioned above, historical data support the presence of over $2 billion in lithium ore concentrate. The company also reports data suggesting that with further exploration, additional resources could be added to the already calculated historical tonnage. At today's trading range, Quantum shares could be considerably undervalued to its longer-term potential!
Now is the time to consider if Quantum Minerals fits to your investment objectives. A North American lithium boom not only seems baked in, but it's also ready to pull from the oven!
Make no mistake about this. Lithium supplies will be as essential to U.S. automakers as is rubber and steel. Without lithium, a battery cannot be made and an electric vehicle cannot be built! It's not likely that U.S. automakers would be investing billions to build electric vehicles if their lithium supplies were not assured.
Despite such an enormous resource valuation, Quantum shares still trade in the penny stock range, which may be entirely due to the fact that the mineral resources cited here and in more detail on the company website are presented as historical estimates using historical terminology. These data do not conform to present-day NI43-101 standards required for valuing resources, but that does not mean the resources are not there. It simply means that the company cannot report those as current mineral resources or mineral reserves accruing to shareholder value!
To learn more, start your due diligence at the company website. Details of findings and history at Irgon make a compelling case for getting some skin in the game right now.
While on site, be sure to register your email address for future company news and updates.
That's not all. As seen in the map at the top of this report, Quantum Minerals owns two enormous positions in the heart of Manitoba's Flin Flon gold, silver, and copper mining district.
What stands out about these two prospects is that each is heavily populated with the rarest of all precious metal geological formations…
They're called "VMS" structures, Mother Nature's version of a Fountain of Gold, and only about a thousand of them can be found worldwide!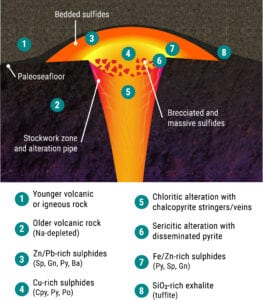 A VMS (volcanogenic massive sulfide) structure is a rare geological phenomenon that originates deep into the earth's crust and flows to surface tremendous quantities of gold, silver, copper, and rare metals.
One of the biggest clusters of VMS structures found anywhere in the world is located in central Manitoba where Quantum Minerals recently secured two mining prospects totaling over 55,400 acres at Rocky Lake and Namew Lake.
This is a massive inclusion in Quantum resource assets…on par with just about any world-class finding.
Rocky Lake and Namew Lake lie embedded in Manitoba's Flin Flon mining district, which is well known for its extensive and prolific distribution of VMS structures. These are structures that no matter where found in the world routinely produce abundant tonnage in gold, silver, copper, and other ores.
Quantum reports that:
"The region contains 31 developed VMS deposits, from which more than 170 million tonnes of sulfide ore have been mined or are under development. Exceptionally high Au contents of many of these deposits, including Flin Flon (62.5 Mt @ 2.7 g Au/t) and Lalor (9.9 Mt @ 5.7 g Au/t in the Au zone), make them particularly attractive exploration targets."
As a potential Quantum investor, the growth opportunity in gold and silver production can be stunning.
What was surprising…and is covered in more detail on the company website…was that recent exploration results "returned significant values in copper", emphasis theirs!
Poor man's gold could soon make you rich!
Silver has long been known as the "poor man's gold", but over the last year, copper has become a huge moneymaker as well. Both metals have nearly doubled in price over the last year while gold prices have largely stagnated. Many analysts attribute the doubling of silver and copper prices to the rise of green technologies. If that's the case, of the two, copper stands as the most likely big gainer.
Like lithium, copper is an essential metal in the design and production of electric vehicles. After all…copper is the fuel line that feeds to the juice through the motor!
Here's a stunning fact. While a conventional gas-powered vehicle can be built with as little as 18 pounds of copper…an equivalent-sized battery-powered vehicle requires 183 pounds of copper…ten times as much![5]
As the world transitions to battery-powered vehicles, the demand for new supplies of copper could absolutely skyrocket. Just like lithium, the future for U.S. automakers could be highly dependent on North American copper production as South America and China dominate global copper production.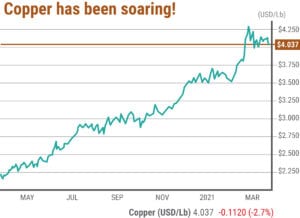 So, while many investors focus on the essential supply of lithium…copper can also become a critical metal to the future of EV technologies.
That could become a serious challenge. As reported in the World Copper Factbook, declining ore grades have become a "serious issue in developed copper areas", which specifically includes the United States and Chile, but may be a rising challenge worldwide.[6]
Electric-powered vehicles will likely place an enormous new demand load on world copper production. Estimates are the global copper production must grow by around 23% to meet new demand…that in the face of declining ore grades could place huge price pressure on copper, which would accrue well to operators like Quantum Minerals, who are in position to find and develop new resources.
The VMS structures at Quantum Minerals are expected to be hosting extensive mineralization in copper as well as gold, silver and other valuable metals.
Exploration on Quantum's two properties in the Flin Flon district has revealed clusters of undeveloped VMS structures that typically hold significant mineralization in precious, semi-precious, and rare metals.
Quantum has already cataloged 41 likely VMS structures on these properties…and that's just getting started. More discoveries are anticipated as exploration is ongoing.
Similar structures in the Flin Flon district have produced exceptional resources from prior mining. In 2019, owners of the nearby Lalor and 777 mines together logged astonishing production records:
23,354 tonnes of copper
119,106 tonnes of zinc
110,406 ounces in precious metals[7]
Then there's the Kidd Mine alone! Astonishing single mine data! (See graphic on left.)
Quantum believes that figures like these from the historical record can accurately project the production potential of its prospects at Rocky Lake and Namew Lake.
Shortly after it acquired these properties, Quantum launched the first in an ongoing exploration campaign to definitively locate the most promising sites for advanced drilling. The subsequent data and updated data interpretation pinpointed multiple VMS prospects clustered throughout Namew and Rocky Lake properties…much like the cluster formations illustrated here.
Aerial exploration such as this VTEM survey coupled with highly effective data analysis and computer modeling has advanced significantly over the last decade. Promising mineralization can be identified over surfaces and to depth, even differentiating the type of metal being found. Because VMS structures are highly concentrated and vertically oriented, pinpointing drill locations that intercept these structures has become much more refined and accurate thanks to significant advances in computer analysis and data modeling. Guesswork has been virtually eliminated.
Technology unavailable over a decade ago has taken much of the guesswork out of finding the correct drill sites. Helicopter-borne aerial surveys combined with new computer analysis can now identify the most promising drill sites with astonishing accuracy.
Think of this technology as a metal detector on steroids! Add incredibly accurate computer analysis of the data and miscues have been all but eliminated.
From the company website:
Detailed re-interpretation of VTEM data by Maxwell Modelling on the main Rocky Lake massive sulfide target showed the presence of a deep-seated conductor. This conductor appears to be at least 1,000 meters long and seated at a depth of minimum 200 meters. The top of the conductor was confirmed by drill holes RL11-2 and RL12-5. Massive sulfide mineralization was intersected at the bottom of RL11-2 at a vertical depth of 193 meters.[8]
Data gathered from VTEM plus other aerial and surface exploration technologies allow for precise, highly accurate modeling of underground geological structures and most importantly, the mineralization within.
The best part is, once the company documents the location of just one VMS structure, the clustering effect all but ensures that many more nearby locations could be discovered and appropriately identified.
These carry enormous resource potential that, once documented, can quickly accrue to shareholder value.
Resource recovery from just a few of these locations could be breathtaking as VMS structures in the region have proven to be highly productive.
For example, in addition to the data from the Lalor and 777 mines, another nearby mine at Namew Lake has produced 2.57 million tonnes of copper, nickel, gold, silver, palladium, and platinum. Quantum fully expects to match such potential on multiple sites on the properties.
If you're looking for rapid growth opportunity, then Quantum is something to dig into without delay.
Virtually all the information provided above, along with more in-depth details can be found today on the company website. You'll find exploration history, press releases and highly informative, detailed information on site. It's the ideal start for beginning your due diligence and consideration of Quantum Minerals for your growth investment decisions.
Find all this and more at:
https://qmcminerals.com/
While on site, be sure to register your email address for future company news releases and updates.
It is rare that any entry-level exploration company would hold so many potential high-value resources. Lithium, gold, silver, copper…plus much more in other high-value resources…are all on the radar for building shareholder value.
Unlike most early-stage exploration companies, Quantum's current share price belies its massive resource potential at the Irgon lithium mine and the Rocky Lake/Namew Lake properties at Flin Flon.
Currently, the company's top priority for near-term production potential is the lithium at Irgon.
Quantum has been working the development of this Irgon mine site for a number of years. This site is also known to host several rare elements in addition to its substantial high-grade lithium resources, all of which point to exceptional per share valuations should production get started as anticipated.
That could come at any time in 2021 and when it does, the numbers could be stunning.
The company acknowledges the potential of a $2 billion valuation in resource recoveries at Irgon!
This comes straight from the company website:
In addition to the lithium resource, management reports that additional minerals such as Tantalum and Cesium are being assayed in with the lithium, which in aggregate hold potential for 5+ million tons of ore concentrate with a potential resource valuation in excess of $2 billion!
What's more, global projections for lithium demand coupled with difficulties in scaling production (a subject for another report) likely set a current bottom for lithium that could drive significant lithium price increases through mid-decade.
ABC News Australia reports that, "The lithium market is expected to triple in the next five years as the world embraces electric vehicles (EVs)…"[9]
Irgon's resource potential suggests a stunning discount to Quantum's current stock price. Using current lithium prices alone…one share of Quantum stock today could be backed by $23.81 per share in potential resources! Even a 95% discount in situ accrues to nearly $1.20/share…roughly five times Quantum's current trading range!
Please note that the above is not an attempt to put a share price projection on Quantum.
These numbers are provided only as a means to illustrate how undervalued Quantum shares might be at the moment. They should not be considered as a target for future share price! Do your own due diligence and draw your own conclusions. And keep the following in mind…
Quantum Minerals must still be rated as a high-risk investment holding significant potential for substantial losses in your original investment.
However, high risk is the foundation of high reward. Early-stage resource companies (often referred to as juniors) hold demonstrated potential to pay enormous gains for early investors. 20- to 30-fold gains have been seen from companies with far less reported potential.
Production from Quantum's lithium assets alone could trigger these kinds of gains. Add to those the enormous potential gold, copper, and silver resources at Quantum's Flin Flon properties; these could accrue significant additional shareholder value on top of the lithium resources.
What to do now…
QMC Quantum Minerals Corp.
OTC: QMCQF
TSX.V: QMC
FSE: 3LQ

QMC Quantum Minerals has significant holdings in two proven resource districts. The company is near production on its Irgon lithium project in SE Manitoba where up to $2 billion in lithium ore production is anticipated.

Further north, Quantum has advanced exploration prospects on newly interpreted data that identifies multiple, high-probability gold/copper VMS assets. This region has a long history of prolific production and holds potential for millions of ounces in gold equivalent resource production.

At its current share price, QMC Quantum Minerals appears significantly undervalued relative to its longer-term resource potential.

To learn more, go to:
If wealth-building potential like this appeals to you, get started with your due diligence without delay. The Irgon lithium project appears to be near production and the Flin Flon properties are situated in a well-known gold/copper district. Seasoned resource investors could catch wind of this at any time, triggering a rush on shares and putting today's entry place well behind in the rear-view mirror. Do not be caught just looking.
Go now to the company website:
qmcminerals.com
While on site, be sure to register your email address for future company news and updates. Also, put Quantum Minerals on your brokerage's watch list. Better still, consider getting some skin in the game while Quantum continues to trade in its current penny stock range.
This is a fast-evolving situation that deserves immediate action. Here's a quick recap of what's underlying the Quantum Minerals investment opportunity and why you should consider carefully your next move.
5 Key Reasons to Move Aggressively on Quantum Minerals Today:
Quantum's current share price belies the estimated lithium valued at the Irgon Lithium Mine prospect. This prospect has an anticipated near-term production launch targeting 5+ million tons of lithium ore concentrate. At current lithium prices, the company now projects its potential total resource valuation in excess of $2 billion!
Quantum Minerals holds 100% working interest over 55,400 acres of mining claims in the prolific Flin Flon gold/copper mining district.
The Flin Flon district is well known for some of the world's most densely clustered regions of volcanogenic massive sulfide (VMS)
VMS structures already discovered in Flin Flon (some in production) are known to host significant resources in gold, copper, silver, zinc, and other high-value metals.
By reinterpreting historic and recent aerial and surface exploration, Quantum geologists have identified 41 distinct drill sites targeting VMS structures throughout its' properties.
Now is the time to get busy and decide: Could QMC Quantum Minerals have a place in your growth objectives? Don't let this one get by you. It could be an enormous wealth builder in your portfolio.
To learn more, start with:
[1] https://www.autonews.com/manufacturing/lg-invest-45-billion-us-battery-production-through-2025
[2] https://www.autonews.com/automakers-suppliers/gm-mulling-second-us-battery-plant-eyes-tenn-report-says
[3] https://www.reuters.com/article/us-autoshow-detroit-ford-motor-idUSKBN1F30YZ
[4] https://investingnews.com/daily/resource-investing/battery-metals-investing/lithium-investing/lithium-production-by-country/#:~:text=Top%20Lithium%20Production%20by%20Country%201%20Australia.%20Kicking,…%207%20Brazil.%20…%208%20United%20States.%20
[5] https://www.visualcapitalist.com/how-much-copper-is-in-an-electric-vehicle/
[6] http://www.icsg.org/index.php/component/jdownloads/finish/170/3046
[7] https://hudbayminerals.com/canada/default.aspx
[8] https://qmcminerals.com/rocky-lake-gold-copper-project-2/
[9] https://www.abc.net.au/news/2020-06-26/lithium-producers-prepare-for-predicted-global-shortage/12394326
GENERAL NOTICE AND DISCLAIMER – PLEASE READ CAREFULLY. We are engaged in the business of marketing and advertising companies for monetary compensation. All content in our releases is for informational purposes only and should not be construed as an offer or solicitation of an offer to buy or sell securities. This is a paid advertisement and is intended solely for informational and educational purposes. The issuer has provided wallstnow with a total budget of approximately 1,000,000USD to cover the costs associated with this advertisement for a period beginning 1 October 2020 and currently set to end 31 July 2021. wallstnow will retain any excess sums after all expenses are paid. As a result of this advertisement, wallstnow expects to receive additional website visitors, advertising revenue, and email subscriptions.
Please read our full disclaimer here.